NASA Astronomy Picture of the Day 16 February 2023: Hydra galaxy cluster
Most galaxies exist in groups or clusters with dozens or hundreds of members, and these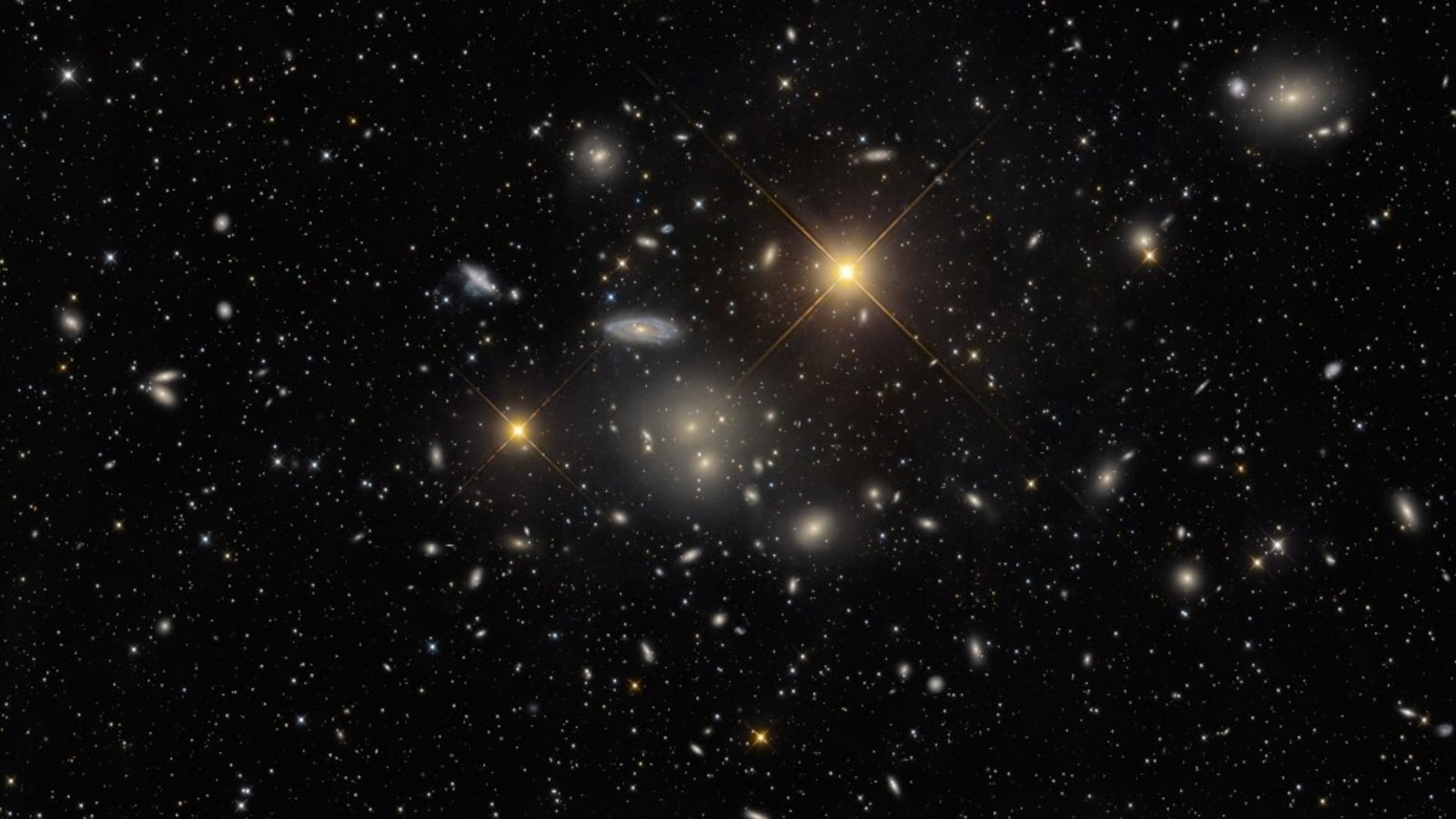 NASA Astronomy Picture of the Day 16 February 2023: Hydra galaxy cluster
Most galaxies exist in groups or clusters with dozens or hundreds of members, and these cluster galaxies are all in constant motion, pulled and twisted by their neighbour's gravity. One such galaxy cluster is the Hydra Cluster of galaxies which is one of the three large galaxy clusters within 200 million light-years of the Milky Way. Galaxy clusters are the largest objects in the Universe bound by gravity and astronomers can use them to measure important cosmological properties, according to NASA.
NASA's Astronomy Picture of the Day is a stunning snapshot of the Hydra Cluster of galaxies surrounded by millions of stars. According to NASA, the galaxy cluster is over 100 million light-years away in the constellation Hydra. Three large galaxies near the cluster center, two yellow ellipticals (NGC 3311, NGC 3309) and one prominent blue spiral (NGC 3312), are the dominant galaxies, each about 150,000 light-years in diameter. The credit of capturing this picture belongs to astronomers Marco Lorenzi, Angus Lau and Tommy Tse.
Instead of giving a description of the picture, NASA has dipped its toes in the field of AI and provided a poem based on the Hydra Galaxy Cluster which was created by popular AI chatbot ChatGPT.
Poem based on Hydra Galaxy Cluster written by ChatGPT
Once upon a midnight dreary, while I pondered weak and weary,
O'er volumes of astronomy and forgotten lore,
I stumbled upon this snapshot, cosmic and eerie,
A sight that filled my heart with awe and more.
Two stars, like sentinels, anchored the foreground,
Of our Milky Way galaxy, a sight to behold,
Beyond them, a cluster of Hydra, galaxies abound,
100 million light-years away, a story to be told.
Three large galaxies, ellipticals and a spiral blue,
Dominant and grand, each 150,000 light-years wide,
But it was the overlapping pair that caught my view,
Cataloged as NGC 3314, a sight I cannot hide.
Abell 1060, the Hydra galaxy cluster's name,
One of three large galaxy clusters close to our Milky Way,
A universe bound by gravity, a celestial game,
Where clusters align over larger scales, I cannot sway.
At a distance of 100 million light-years, this snapshot's size,
1.3 million light-years across, a cosmic delight,
A momentary glimpse into the universe's guise,
But even this shall fade, and be nevermore in sight.